If you are thinking of some DIY
prom hairstyles
for your Prom Night, you are in the right place. Here are three hot
prom hairstyles
you can whip up at home easily without any help from hairstylists.
The Chignon
This one's a classic prom hairstyles and has been seen more times on the red carpet recently than Cate Blanchette. This prom hairstyle is a favorite of ours for two reasons: First, it's super easy to do and, second, its looks chic without looking too "made up".
To create your own chignon smooth your hair back and gather it into a low lying ponytail and secure with clear elastic or one that closely matches your hair color. Now grab the ponytail and twist it like a telephone cord. Wrap the spiraled ponytail around the base of the ponytail pinning around the 'bun' as you go. Don't worry if a few end poke out that only adds character to the style. Secure well and give a very light mist of hairspray to hold.




The Half-Up Do



This prom hairstyle works on many levels. It's elegant enough to see you through even the most sophisticated of prom events but has a soft, romantic feel to it also. This one's also easy to do at home if you have a little hair skill but if not book an appointment'it'll be worth it.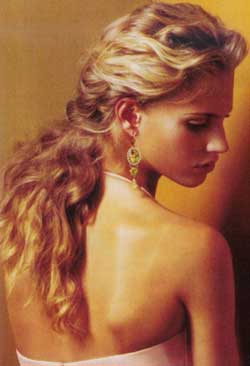 To create this style set long hair in medium sized hot or Velcro rollers. Once the hair is set gently take hair out of rollers and finger comb to separate the curls. Now loosely gather the sides of your hair'make sure you leave some height at the top'and secure it with a gorgeous hair clip just below the crown of your head. Pull a few tendrils out around the face to soften the look. Bangs should be swept to the side and hairspray should be kept to a minimum to ensure the hair still moves.



A Pin Curl Twist



This one's is a little trickier to do but the results are a very edgy yet elegant prom hairstyle. If you've got a good deal of hair savvy this one is possible but it's even easier if you team up with a friend and let them do it for you.


Start with hair that's been washed the night before'hair that's too clean is slippery and won't stay in place. Take a two inch wide section of your bangs and pin the hair back to the crown of your head. If you have short bangs use small jeweled hair clips to pin them back or two the side.


---
Technorati Tags: Prom Hairstyles, Chignon Hairstyles, Half Up-do Hairstyle, Pin Curl Twist Hairstyle