The moment a woman is asked to prom, or she feels an engagement ring slipped on her finger, her mind begins to race with the details of her special day. It is not uncommon to plan her appearance down to the hue of the polish on her pinky toe. However, many women are mystified by exactly what to do with their hair. An excellent option, whether done at home or at a salon, is to begin with a base of curls. Spiral curls manage to give the illusion of thicker, more voluminous hair on just about anyone. And, with the variety of styles in which spiral curls can be arranged, it is easy to understand why it is such a popular choice.
A rather obvious, yet still fabulous option is to wear the hair arranged in spiral curls down. This frames the face, and looks beautiful under a veil. It also conveys a simpler, more natural look to any dress or event. Another option involves pinning back the hair around the face to create a cascade of curls down the back. This 'half up' hair do puts more emphasis on a woman's face, and also keeps her hair relatively out of her way while remaining a more feminine option than completely putting the hair up. Bobby pins are an excellent tool in this style, as they create a very natural appearance.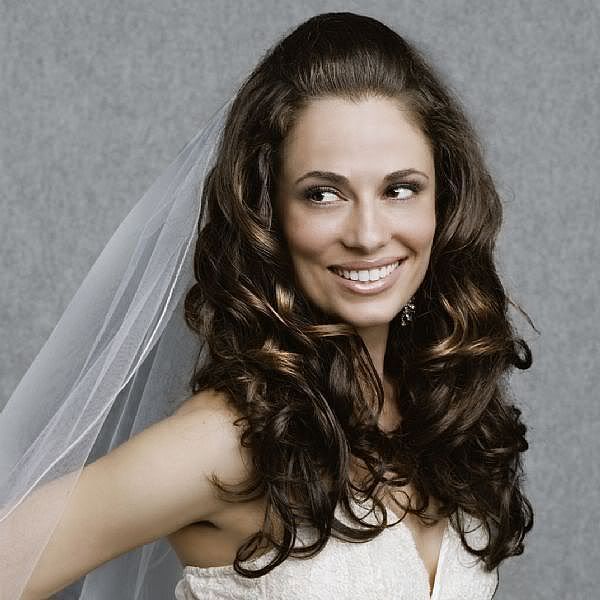 A variation on that idea involves parting the hair on one side and sweeping up the larger section of hair and simply setting it in place with a cubic zirconia clip or bobby pins. To allow the full length of the hair to be exposed, yet to keep it away from the bride's face, a good idea may be to simply take a strand of hair and to curl it around the rest of the curls at the nape of her neck and secure it with a bobby pin or tiny clip. This serves as an invisible hair tie and makes a very natural, yet unusual hairstyle. For another way to pull the hair back without having an up-do, try creating a loose French braid and accenting the hair with flowers or ribbon. Many florists have small, sweetheart roses that could be the perfect complement to a prom dress or wedding gown.

Sometimes, women just want to feel glamorous. In this case, for a more dramatic appearance, the hair could be pulled completely away from the face and up to the crown of the head. This would create a beautiful mass of curls atop of a woman's head, accentuating her elegant neck and décolletage. This style would be idea for a more formal wedding or prom. Another chic style involves taking the mane of curls and slowly pinning them up by 1 inch squared sections. By meticulously placing the curls all over the head, an alluring look can be achieved. Be sure to pull down small tendrils around the hair line, as they frame the face make the style a bit more sultry. A fabulous, yet simple hair style is created when women begin with their spiral curls and start to roll the hair up from the bottom in an inward fashion. When done neatly and loosely, at the nape of the neck, from ear to ear should be a long roll of curls. Pin this to the back of the head and then insert flowers, preferably roses or larger flowers where the roll meets the back of the head. This creates a lovely wreath of flowers that would make any woman feel sensational.


In the case of prom, there is a little more flexibility as to what is accepted. Any of the previous hairstyles would work terrifically, however it is not mandatory that it should look formal. For example, this is a flirtatious idea that mimics hairstyles of the hottest stars. If your hair is longer, take it when curly and tuck it once underneath and pin it at the nape of your neck and then pull pieces down so that they droop longer towards your face. You have just given yourself a temporary, sexy bob that is perfect for a special night without permanently altering your hair! You could take it one step further by spraying your hair with some glitter hair spray to kick it up a notch.


These are just a few ideas that should help any woman with creating the look of her dreams. There is nothing more beautiful than the confidence a woman emits when she knows she looks fabulous. Spiral curl hairstyles are so flexible and beautiful that she is certain to feel stunning for her big event. And remember, no matter how beautiful the hairstyle may be, if the hair is not healthy and shiny, it cannot reach its full potential. So, before a big event, it is essential for a woman to deep condition and to take care of her crowning glory, her hair.


---
Technorati Tags: Prom Hairstyles, Curly Hairstyles, Prom Hairstyles Tips, Wedding Hairstyle Tips, Long Curly Haircut